Oluwaferanmi Ogundipe is the CEO and co-founder of BARE. BARE is an innovative tech start-up that provides skincare + product recommendations for black men, and women using Artificial Intelligence technology. Red Edit had a chat with Oluwaferanmi where she revealed the most problems recurrent with black skin types. She also gives us insight into what it is like being a business owner around the beauty and tech space. This is an interview with loads of insight so take advantage of it.
Red Edit: Can you introduce yourself to the readers?
Oluwaferanmi Ogundipe: My name is Oluwaferanmi Ogundipe and I am the founder of Bare. Bare is a platform that gives recommendations for black and brown skin using Artificial Intelligence. My background ranges between project management, brand strategy, and event production amongst others. 
Red Edit: How did the BARE idea come about?
Oluwaferanmi Ogundipe: The idea for BARE came when we realized we couldn't find enough data around black skin. These data could not easily be accessible like data for Caucasian skin. We also understand a lot of people do not know how to navigate skincare as there are many products on the market so it can be daunting finding a product for dark and brown skin types. So that is how we came about BARE. BARE is a safe space and we provide information from the ingredients in products which is good for your skin, to effective brands and products in the market. We analyze skin types, talk about skin concerns, and how to treat them. We have a safe space where people can share personal concerns and open up about their skin problems.
Red Edit: How did you find yourself in the tech space. What made you and your team decide to merge skincare and technology?
Oluwaferanmi Ogundipe: Before BARE, I had an eCommerce store, doing that got me into a tech incubator. With the tech incubation program, I and my co-founders developed another idea aimed at sourcing ingredients to help people create products. Along the line, someone suggested we find products for skincare. That is how we moved from helping people create products to giving people research data to help them create products. Then we move to how do we help people with skincare problems solve them. That's how we found ourselves in data science and artificial intelligence space.
Red Edit: Is the BARE app free?
Oluwaferanmi Ogundipe: It is free to an extent. The skincare analysis and product recommendation are free. But as we grow and evolve, I don't know if it would be free.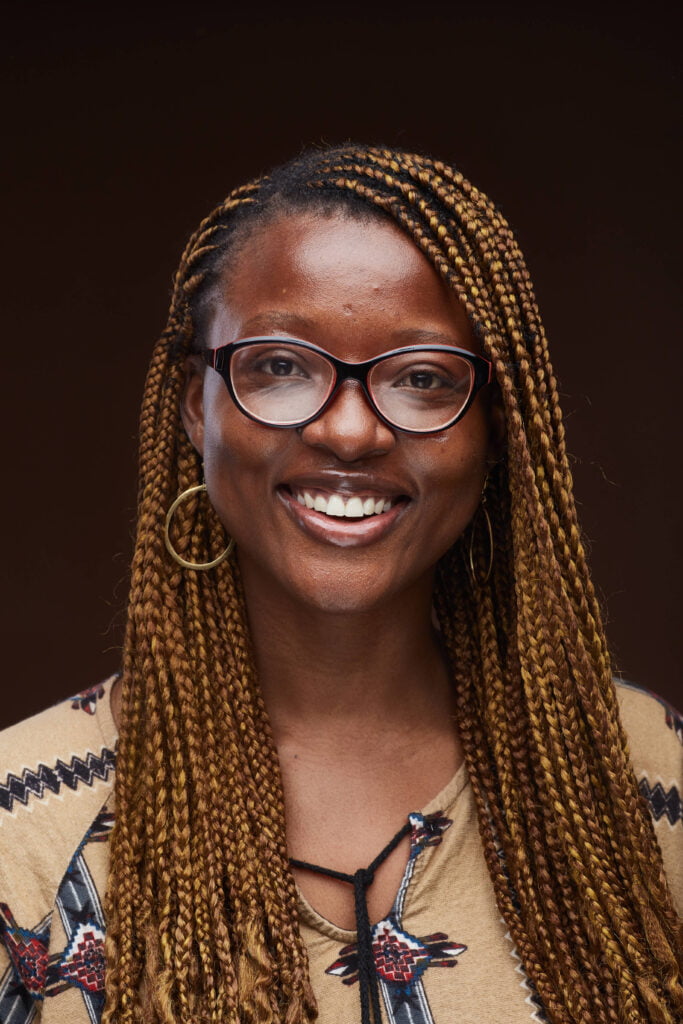 Red Edit: With the skincare data you have on the BARE app so far, what are the common concerns related to black and brown skin?
Oluwaferanmi Ogundipe: The main issue that comes up is Hyperpigmentation. Hyperpigmentation occurs when part of the skin becomes deeply pigmented than the normal tone of the skin. Black people don't use a lot of sunscreens, we also don't have a lot of real guidance on solving skincare problems. People do a lot of home remedies which results in scarring and the way scarring occurs in black skin is hyperpigmentation and dark spots. So a lot of issues we get when people come to our website is "I have dark spots."
Red Edit: What's the target market for your brand?
Oluwaferanmi Ogundipe: Our Target market is currently in Nigeria: Lagos, Abuja, and Kumasi, Ghana. Our clients currently are 20% men and 80% women.
Red Edit: How accessible and affordable are these products you recommend?
Oluwaferanmi Ogundipe: For accessibility, we try to make sure that the product we recommend is currently on ground. We also buy from reliable brands and stock up so the products we recommend are available. Alternatively, you can also get products from another brand and stock up if we are sure that these brands have authentic products. Affordable skincare products can be pricey, and people are really concerned about pricing. We also see if we can get the product people need on the app at a reasonable rate, but not cheap.
Red Edit: What are the challenges your brand encounters as a tech and skincare startup operating in Africa? How are you solving these challenges?
Oluwaferanmi Ogundipe: The major challenge is the supply of these products into the country. One of the most interesting bottlenecks we have is supplying products, and that is because the supply chain isn't very organized in this country. We also find a way to mitigate the troubles that may arise that is why we get to buy wholesale so we make sure that these products are available regardless of what may be happening in the country at that time. There is also the problem of counterfeit products so we try as much as possible to get products from brands that have approval certificates.
Another challenge is incorporating local brands into our systems because they find it difficult to get approval from the government and we do not recommend brands that are not approved by the government. We get local brands who reach out to us and complain that we are not recommending their products. Even though we want to, we cannot recommend a product that doesn't have the right credentials. To solve this problem, we are trying to partner with She Trades Africa, to create a framework for local brands to be able to get the certification they need so we can recommend them. Also to help these local brands so they can create products that are scientifically proven than products that are just on a hunch.
A general problem we are also facing is an investment. Sadly investment doesn't drop like water from the sky. In general, running a business in Africa is not easy. The government who should be helping isn't helping themselves. Getting people to join the team and be committed is also an issue. In all, we are hopeful and we think the market is ripe for what we are doing.
Red Edit: In this part of the world, are people really interested in skincare? There's an assumption that some Africans except the elite ones don't care for their skin, what's your take on that?
Oluwaferanmi Ogundipe: I differ from the notion that Africans don't care about their skin. The statistics are different from what most people think, everyone cares about their skin. It may not be the typical care about toning or fancy things, but they care about the products around them. Skincare has a wide industry. You can see that from Beverly Naya's documentary, Skin. On a scale of 1-10. At least 7 people would care about their skin. We are focused on the ones who care about their skin and we want to make sure these people that care have information about the right products, and everything else.
Red Edit: Any Final words?
Oluwaferanmi Ogundipe: I hope people take advantage of this and we can stop people from damaging their skin because they don't have certain information. As a community, there's a conversation around toning, bleaching, and others. Our goal is to give as many people access to resources so they do what is right for their skin.
Red Edit: This has been an enlightening interview, we hope our skincare lovers get in on this opportunity and make use of the resources on BARE.
Oluwaferanmi Ogundipe: I hope so too. Thank you so much for having me.
Red Edit: Bare is free for now so take advantage of all the resources by accessing the link below.
https://linktr.ee/barethecommunity
You can also reach BARE via their social media platforms linked below:
Instagram/ Facebook: BaretheCommunity
Twitter: bare_community
Related Posts: BARE Free Skin Analysis
Related Posts: How To Dress To Impress In 3 Simple Steps