Mariam Timmer ft her daughter Nova Pearl…
The Real Housewife, Mother & Sister-Friend you want in your corner!!!
Born on the 21st of December 1986, Mariam Timmer nee Adeyemi is the last of 5 children. She studied Political Science at the University of Abuja where she began her journey into the world of PR and Event Management before moving back to Lagos, working at a few high profile boutique PR agencies and eventually starting her own outfit Six Sixteen Agency.
In 2015, Mariam married the love of her life, John Timmer in 2015 at a beautiful Dubai ceremony with close friends and family in attendance. They both welcomed their only daughter (our other cover star) Nova Pearl in 2018 to the delight of their external families and close knit group of friends. Their relationship is truly the definition of 'couple goals'- it doesn't just revolve around marriage as they also co-own an oil and gas business and of course we love to see it.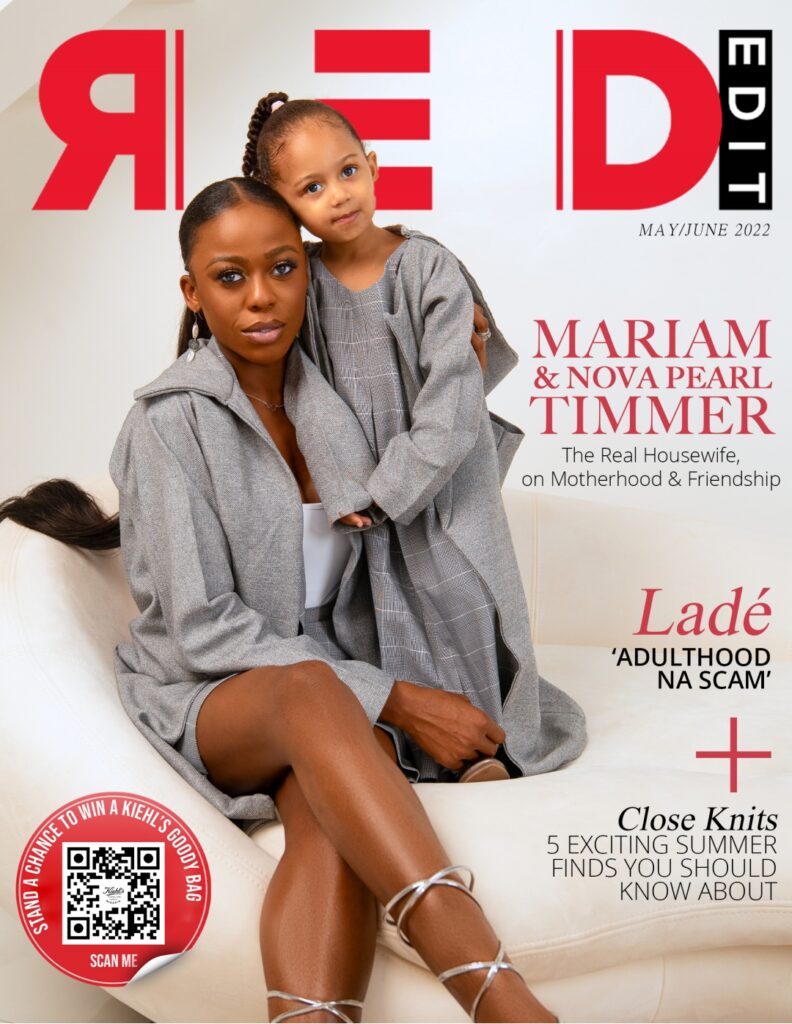 As a PR expert, Mariam understands the intricacies of brand perception, management and amplification therefore it was no surprise that when the opportunity came knocking to be a part of one of the biggest television franchises in the world she took up the offer to become the sixth cast member of the hit show Real Housewives of Lagos. The reality series set in the cosmopolitan city of Lagos has been an instant success with fans and audiences clamoring for a second season as the fashion, exciting locations, dazzling lifestyle as well as the drama has left us all wanting more! RedEdit caught up with the reality show star at their beautiful home in suburban Lagos to interview her as well as capture her essence as a mom, wife and working professional woman in the 21st century. Photographed by SniperAjix and styled by MrMakeIt, Mariam let us into a never-before seen side of her which she protects ever so fiercely because as she has said both on and off camera…"I don't joke with my family!"
Congratulations on your life girl! You're on one of the hottest reality shows out of Africa period! You just launched your fashion business, your skin is popping, body is banging, home is amazing, husband and daughter are perfect… Tell us how you're feeling right now about everything!
Thank you very much. I feel absolutely blessed and I will say it's all thanks to the Almighty God. He has been truly amazing.

You're a PR expert and in business with your husband. Talk us through your daily work schedule…
Being a PR expert and running a business with my husband has been great and has especially been challenging.
Those that understand what it takes to build a new business will definitely understand what I'm talking about. It has not been easy juggling everything and making sure I put in equal effort for all our businesses.
Speaking of businesses, my PR company is called SIX SIXTEEN AGENCY LIMITED. It is a boutique agency.
At Six Sixteen Agency, we navigate shifts in business, culture, and online platforms to ensure that our clients remain relevant and resonant. Much more than a PR agency, Six Sixteen Agency is a team of communication experts and much more. Our clients benefit from our strategic counsel, industry relationships, deep cross-category expertise, and unwavering commitment to elevate and evolve their business. Our mission is to operate in a world of constant change and incessant competition.
In a world where capturing the attention of a distracted audience and developing meaningful relationships necessitates creativity, tenacity, and, most importantly, authenticity, while Jomanag Intergrated Services is a business I share with my husband, in 2020. We started an oil and gas company that deals with off-stream and on-stream/procurements and manpower which is still rapidly expanding. It's been an amazing learning process to learn from my husband. It's a good thing I like challenges, so I'm up for more great projects in future.

What are some of the best business tips you have learned over the years?
This business advice I have learnt over the years is definitely consistency and more importantly, providing good service to clients is crucial to gaining loyalty and retaining business.
Mental health and wellness are a big part of our conversations today and we are told balance is absolutely key to helping us achieve that. How do you balance motherhood, marriage, your business, the show, family, friendships including a social life and everything else?
This is such an important topic. Mental health and wellness should be a daily conversation in our society. More awareness should be created around this topic. Thank God for my family's support. I have been able to balance everything in my life and on some days that I feel overwhelmed, I just take a break. It's okay to admit you need a break for your own sanity because there's a saying that goes, "health is wealth." Most importantly, it is okay to ask for help from those you can trust and rely on.
I know some aspects of my life will definitely suffer from all the activities in my life, which I must say is the friendship aspect of life, because all my free time is for my family. Talking about the show, they help in managing everything, being there for me emotionally and mentally, because it can be a lot, and that is something I sincerely appreciate.
Let's talk about friends. Even on the show your sister is filmed with you a lot… are you not really into friendships?
I do have friends, but my family is my everything.I have 3 close friends that are like my sisters and know everything about me. They all have busy schedules. I'm sorry that they were unable to appear on the show, but I'm sure you will get to see them.
Your daughter Nova Pearl is a carbon copy of you and she is gorgeous by the way! What's your relationship like with her?
Nova Pearl is everything and more. Our relationship is absolutely amazing. Like my family will say, Nova is yet to cut the umbilical cord. That's how close we are. Everything I do is for her and to make sure she has a better life.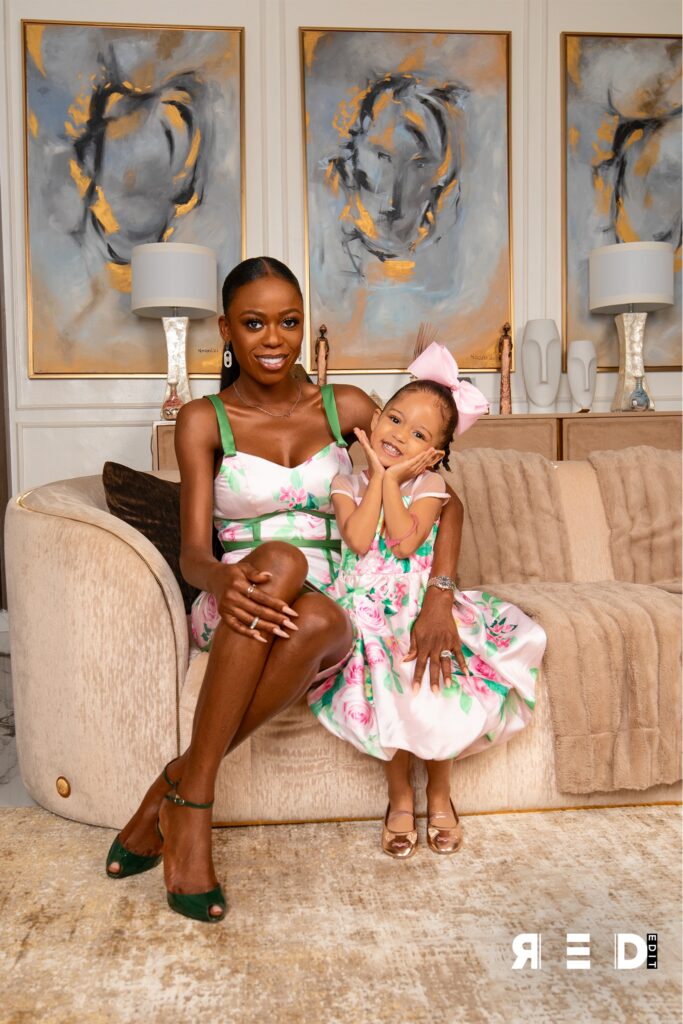 What's her favorite thing to do with you and her dad?
She enjoys cuddling and dancing with me, but she and her dad prefer swimming, reading, and walking.
What did it feel like the first time you held her in your arms?
Wow, that's a feeling I have never experienced in my entire life. The joy of motherhood is something I pray for every woman in this world because it is something you cannot explain but can only experience.I struggled with fibroid, which was the main reason I couldn't get pregnant; I tried IVF, which was unsuccessful; and when GOD finally answered my prayer after three years, it was a surprise. It was the best feeling ever.My daughter was naturally conceived and I didn't even know I was pregnant until I was 5 weeks gone. When I heard her heartbeat for the first time, I just knew this child was mine and thought I was meant to give her everything possible, to teach her the right way of life. Motherhood is surely a blessing, and I'm loving every bit of it.
How did you both feel on her first day of school?
Her first day of school was so emotional for us. I had a meltdown and a panic attack the day before she was set to resume school for the first time. I was happy, but a lot of emotions were running through me. Questions like "Will she be safe?", "Hope she won't get hurt" etc. I believe it is safe to say that I am not the only mother who has felt this way. I'm okay now because she goes to a great school and that puts my mind to rest. A mother's love will always last forever.

What are some of her unique personality traits that you definitely did not see coming?
This is funny. Some of her personality traits I didn't see coming are me seeing myself in her. That was really shocking. It's safe to say now I know how my parents feel because I'm my father's look-alike and have my mother's personality.
You're very passionate about your nuclear family but you haven't shown them a lot on the Real Housewives of Lagos. Is that deliberate?
I'm extremely passionate about my family and extremely protective. My family is my everything. Not showing them a lot on the RHOL wasn't deliberate at all but I am sure you will get to see more of them.

Let's get into RHOL! We heard you have watched every single Real Housewives franchise out there! Is that even true?
hahahaha. You are absolutely right. I love watching reality shows. Not just the Real Housewives franchise, I watch almost all the reality shows I come across or find interesting.

Tell us about your decision to go into the show and how it felt when you got the call!
Getting a call to be on a reality show was extremely overwhelming. Have I ever thought about being on a reality show? Yes, but I didn't think it was going to be on one. It was very shocking when I got that call, but after my emotions were over, I thought to myself, what better franchise to work with as a mother, wife, and entrepreneur if I want to be a reality show?I have been a huge fan of the franchise, so it was a no brainer.

Do you view it as a game, a challenge or you're really just living?
I definitely do not view the show as a game. The show is not scripted, so everything you see is real and pure emotions from me. I'm all about fun and living, which so literally comes natural to me.
Does this mean the show is 100 percent unscripted?
The show is 100% unscripted.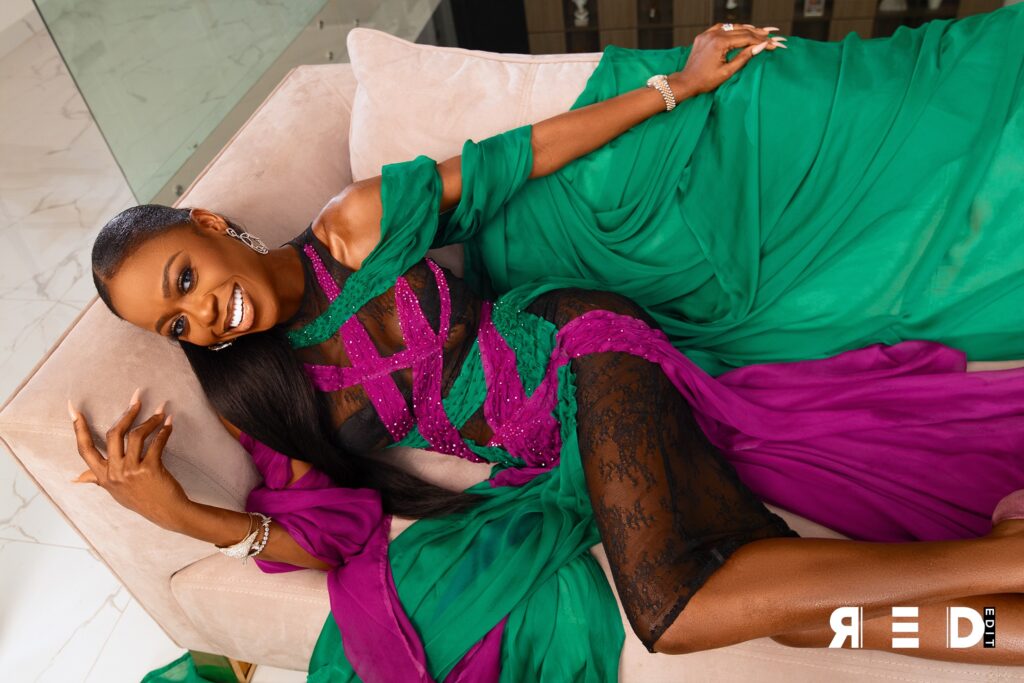 The egos on the show are HUGE! What is it like navigating through that amount of energy without losing the essence of who you are?
These are beautiful women doing amazingly well in their various fields. The show did an amazing job of casting every one of us.
The way I navigate it is by staying true to my authentic self, which you've seen on the show. I'm a happy person, and I just like to live life.

They say fashion is a way of expressing who you are without speaking. Your style on and off the show is on point! Who are your fav designers right now?
Thank you very much for the compliment. I would describe my fashion sense as aspirational with a side of relatable. I also enjoy high fashion, and as Nigerians, couture is our way of life! I try to look absolutely chic in everything I wear, but it's important that I wear the fashion and not allow the fashion wear me. I have lots of designers that style me, but some of my favorites are Matopeda, DNA by Iconic Invanity, Lisa Folawiyo, Sevon, Vicnite, WizdumFranklin, Idiolnupo, MidebyMide, and lots more. I do have a great stylist (Moses Ebite) that understands my style and body type.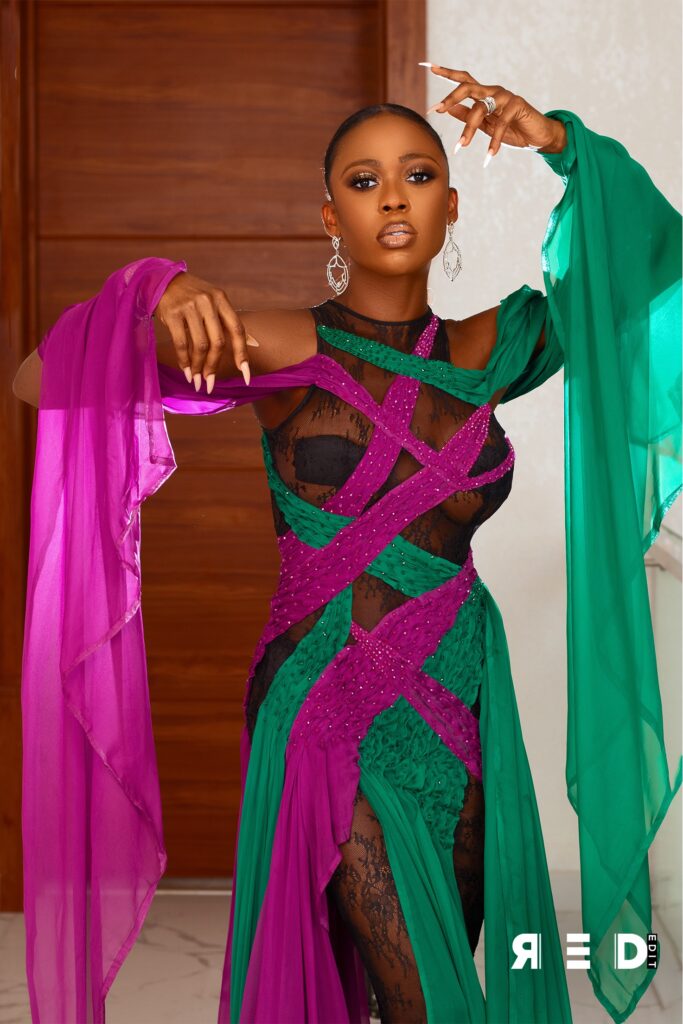 Tell us about your fashion brand Lure and some of the inspiration behind it?
Lure is an online female store with a core focus on ready-to-wear clothing (6-16). The Lure brand intends to drive sales through E-commerce and social-commerce. The target market is focused on the fashion, lifestyle, and internet active segments of this market.
We have recently launched our social-commerce (@shoplurefashion) and are working on launching our e-commerce very soon.

We got to see Laura from the RHOL launch her fashion line and then there's Toyin with her fashion empire… Do you think there may be a potential clash at some point with your brand?
I really do not see that. There is space for everyone to shine. They're both doing fantastically well in their businesses, and I was already working on Lure Fashion long before I knew I'd be on the show and since 2014 started a lash line called Lure Beauty which is currently sold in Nigeria, London, Atlanta, New York, Cape Town and Dubai.
Will we see you doing a launch as well in the next season of the show?
Hopefully we will. We just have to stay tuned.
What has been the best part of the RHOL experience for you so far?
My experience being on the show has been amazing from the first time on set. It's very hard for me not to get along with those I work with. I consider the production crew as my family who I believe look out for me and that will never change.

Looking back at the episodes now, is there anything you'd have done differently or anyone who you misjudged but you are more into now?
I wouldn't say I would have done anything different. Like I said, I have stayed true to my authentic self. What you see is what you get. I know a lot of people are waiting for me to get out of character, which is normal on a reality show. Will viewers get to see that? Maybe or maybe not.

One of the things a lot of viewers have commented on is your melanin glow every damn time! What is your secret girl??
It's been amazing the way people are embracing my skin color.In our society, dark skin is something we do not celebrate often, but it's absolutely amazing to see that a lot of people are embracing melanin. All I do is stay consistent in my routines.My secret products are Kiehl's, Estee Lauder, and our own Pure Coconut Oil.I know a lot of people will not believe it, but if you are consistent and exfoliate regularly, that will surely do the trick.It's also important to eat well, drink a lot of water, and get enough rest. Do this and thank me later.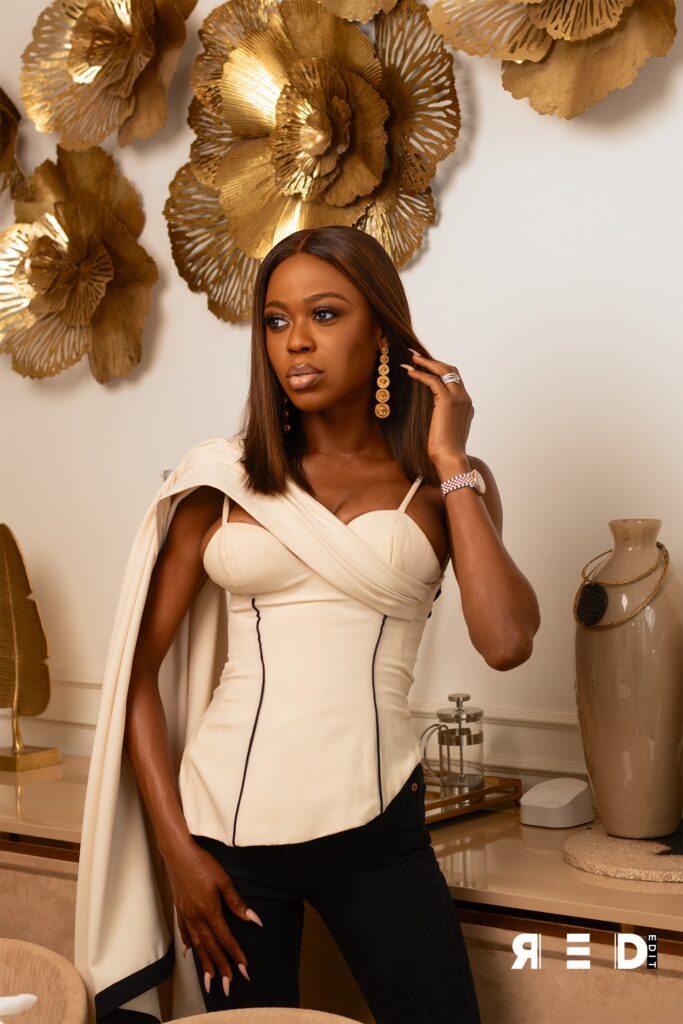 Did you ever feel you needed to change your complexion in order to fit in or be more confident?
Hmm, this is a very important question and I think a lot of people have gone through or are still in this same stage. I have gone through this stage. It might not have been to the extreme, but it's something I tried in the past. I just couldn't deal with the stress of it. I can say I'm happy it didn't damage my skin just because I didn't go to the extreme, but I must say it's not something I would advise anyone to dabble into. Embracing your skin color is the best way to live.

Your energy levels are off the charts so much so you landed on the floor during the altercation between two ladies on the show. What was that!!??
It was either my boobies to the world or me on the floor, and I chose my boobies. I'm naturally hyper and it's something that's in me. The funny thing is that viewers love it.
We commented on your gorgeous home earlier and it really is beautiful. Did you decorate it yourself?
Thank you very much. I designed it myself and got an interior designer (PeridotnPink) to put things together.What I knew I wanted in my home was 100% luxury and authentic products, so I travelled to Turkey to bring all my furniture in. Everything in my home was hand picked by me. I have always had an eye for details and putting things together. My house project was worth every bit.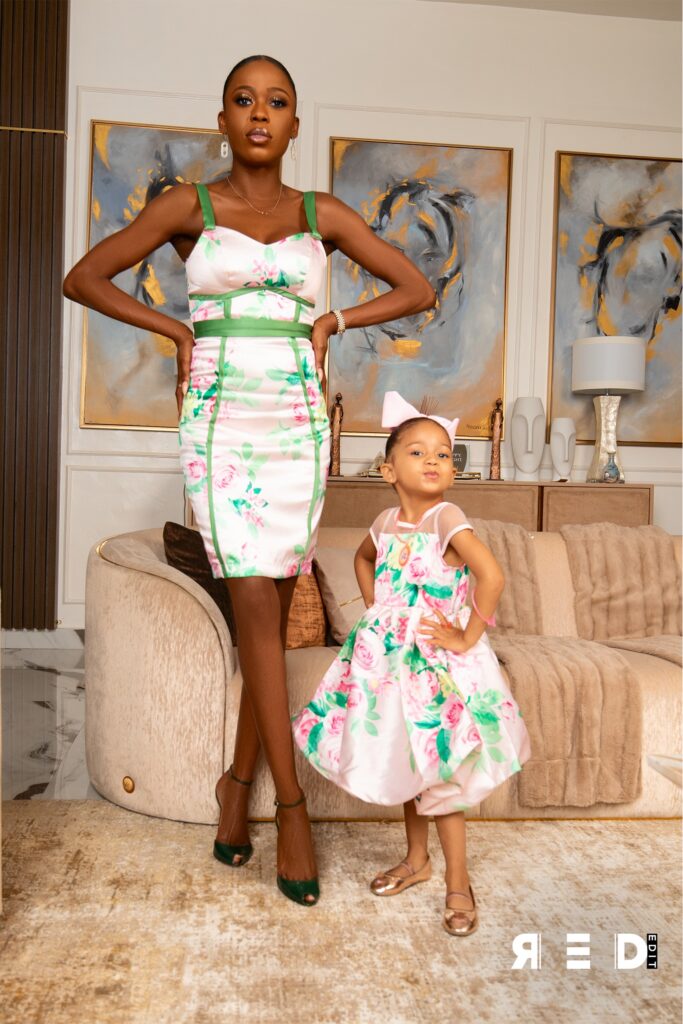 How do you relax?
Going on vacation is how I really relax, but I tell people that as soon as you have children, you can never relax because you are too busy worrying about the safety of your children, even though they are safe and right beside you.
What's on the cards for the future?
There is a lot that I can't share at the moment. There are definitely more things in the works. You will just have to wait and see.
See more photos from Mariam & Nova Pearl's shoot below