Nigerian edible worms also known as palm tree weevil larva are scientifically called rhynchophorus phoenicis. They can be found on palm trees and coconut trees. It is mainly prepared and loved by the southern people of Nigeria.
Fondly called 'edible' by those who hawk it on some Major Nigerian roads, the edible worm is known by  different names. It is called 'eruru, nza or akwangwo' by the Igbos in south eastern Nigeria. In south-south Nigeria, it is called 'ikolo, edon, diet, orhu, or okhin'. Also, in the west, it is called ekuku, ipa, or awon. Apart from Nigeria, other African and Asian countries enjoy the delicacy.
How to eat edible worms
We are talking about wriggling squiggly worms (oh the imagination!). Yes, that's what we're talking about, and some people actually eat it raw (oh). Usually though, it is roasted (smoked), fried, and even boiled with salt and pepper, after washing it. Furthermore, some people use them to garnish their meals.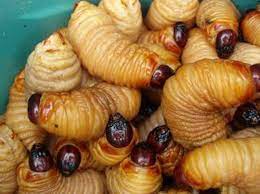 Those who love to eat these worms all agree that it is tasty, absolutely delicious – yes. Actually, it is also rich in protein and other minerals. 
If you are brave enough to try Nigerian edible worms for the first time, you might love them. After all, they are one of nature's precious gifts.
Keep reading for more special African meal ideas.