ABOUT DBM

Domina by Michelle is an independent Nigerian premium ready-to-wear fashion brand founded by Oge Michelle Otuya in 2018. Operating out of Nigeria, the brand thrives on prestige, feminine, functional, and timeless designs, . It caters to women worldwide who are confiden and unafraid of clothing designed with a statement. And also values the intricacies of quality fashion.
As a brand focused on sustainable practices. Domina by Michelle stems in classic cut with its own version of modern interpretation. The goal is for the pieces to become vintage over time. And also a piece for years down the line, passed down from mothers to daughters.

Domina by Michelle offers the perfect marriage of classic designs and rich fabrics. And also a African heritage, inspired by the love of art. Vibrant colors, traditional printing techniques, and rich embellishments. Which help to create truly unique pieces, all handcrafted by artisans in Africa. We work very closely with ethical fabric suppliers, and continually endeavor to use safe dyes. It also minimize waste in our production processes, as well as reduce our carbon footprint within manufacturing and distribution.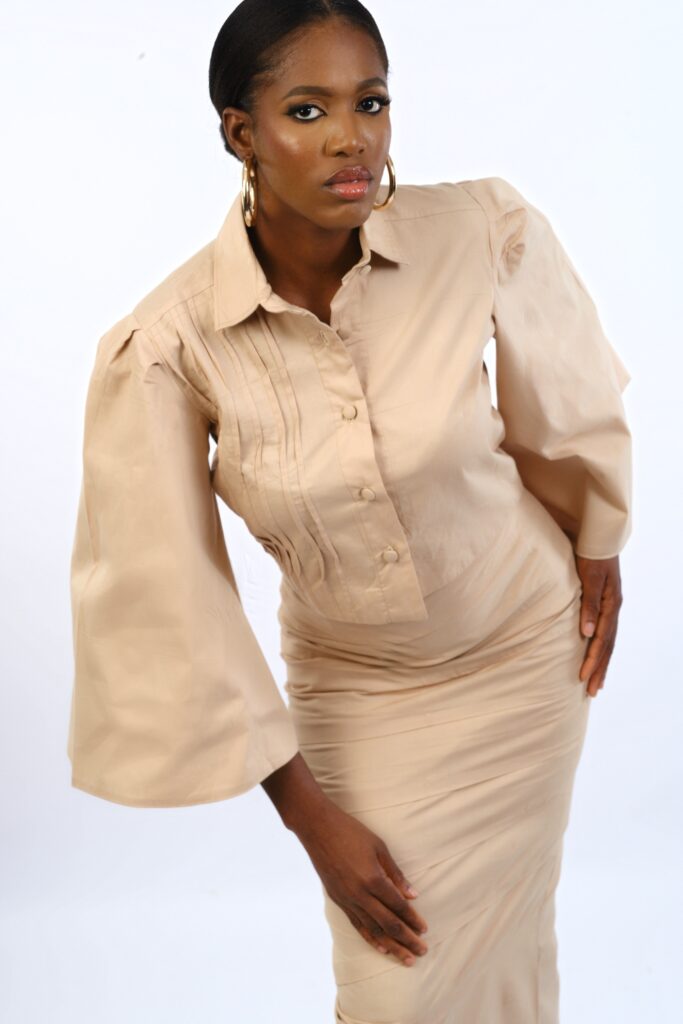 DBM champions the theory of 'less is more, therefore, designs is from sustainable natural fabrics. It comes in limited runs, making for spot-on overall quality, exclusivity, and reduced environmental waste. Leftover fabrics repurposes into new designs, in making add-ons and accessories such as buttons, scarves, and scrunchies.
At Domina by Michelle, we put our all into creating every garment, by employing skilled artisans across Nigeria. Carefully crafting and creating each piece and print, and also telling stories through every item created.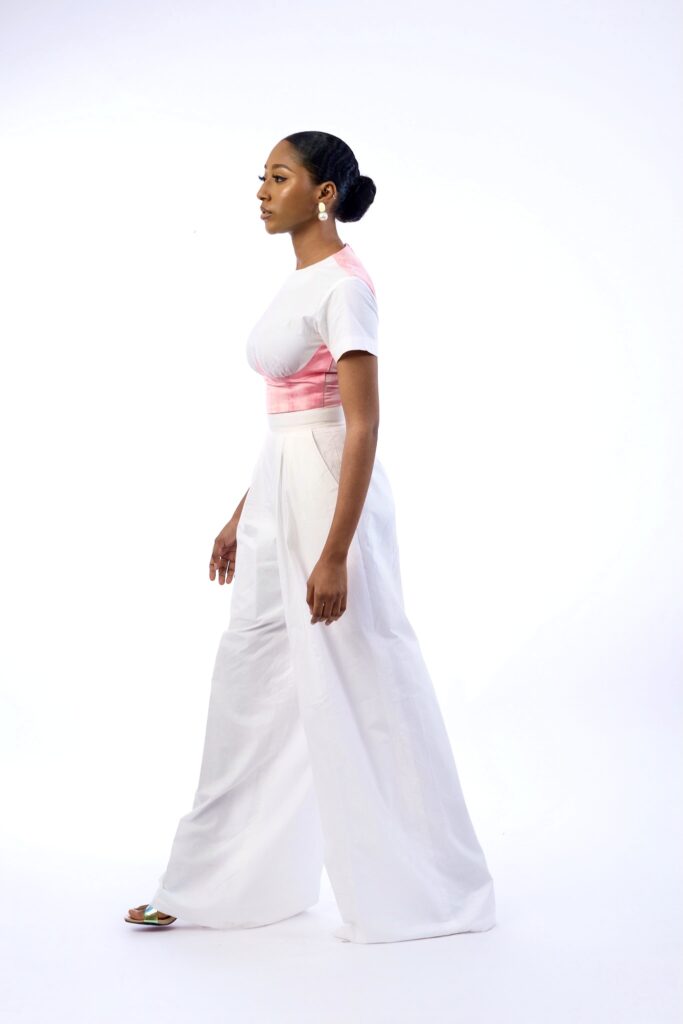 THE CREATOR

Miss Ogechukwu Judith Otuya created her first fashion piece at age 19 which was a jacket at the time.
Domina by Michelle was born out of her passion to make unique, rich and purposeful. Transitional and timeless clothes for women. She officially launched the brand
in 2018, and it has been an exciting journey so far.

Oge Michelle studied fashion in Lagos Nigeria and is constantly finding ways to further, improve her knowledge of fashion. Also,in order to improve and grow DBM into a dependable, memorable, accessible brand with great customer experience.
She enjoys creating clothes that flatter women regardless of their sizes,. For her, comfort, prestige, and sustainability are key when designing a collection.

Michelle's designs come from influences by nature, art, rich African culture, and retro fashion. Michelle desires that every woman who wears DBM automatically exudes confidence at the highest level,. And grasps deeper at the core of her femininity and strength.

She sees DBM as not just a business, but as a budding community of women with similar tastes in fashion. With whom she caters to and hopes to always surpass their expectations of the brand.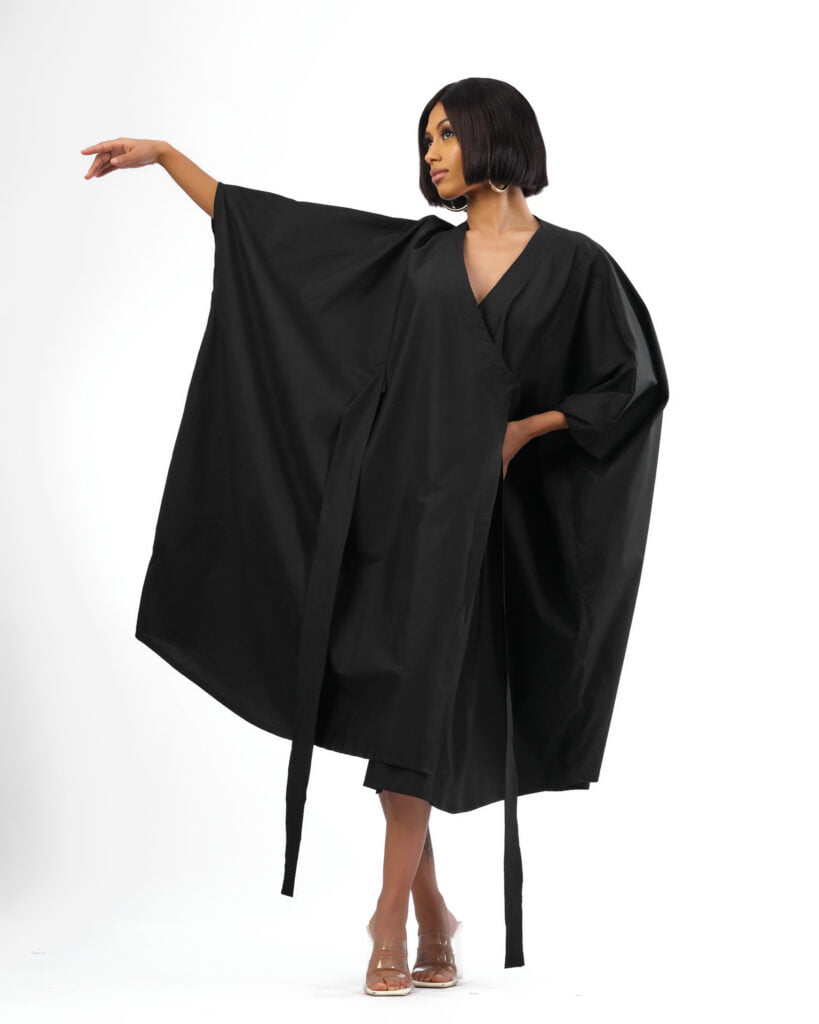 BRAND VALUES
Our clothes made in Nigeria, is mostly at our workstation situated in Abuja. Our staff work in a conducive environment, with fair pay. We also, offer them benefits such as health insurance, and bonuses, amongst others, sustainability. As part of our brand ethos, we create beautiful clothes with the best quality possible ,while being kind to the Earth. Sustainability and ethical production are part of our identity, and we strive to stay on track as we grow internationally.
We produce our pieces in smal batches.
Our styles are classic, timeless, and won't go out of fashion for a VERY long time.
We also make use of Natural and ethically sourced fabrics. At Domina by Michelle, we give intentional attention to the overall quality of our garments fit to finish. We hope to change the perception made in Africa that items are of lower standard/ quality.
Domina by Michelle collaborates with artisans across Nigeria to hand dye and hand batik fabrics.
The process of Batik involves making fabric stamps by carving patterns onto wood or sponges. The stamps dipped into hot candle wax, serves as dye-resistant. Then stamped repeatedly all over the fabric. Afterward, the artisan mixes dye to achieve the desired color and dips the cloth in. When the wax washes off in the boiling water, the batik pattern reveals .
This fabric-dyeing method takes 1-3 days depending on the complexity of the design.
The nature of this fabric design process makes it less likely for items to look exactly the same. And We employ 1-4 artisans depending on the volume of production.
Fabrics

We focus on working with sustainable natural fibers such as Funtua cotton. And brocade grown in Kano and Katsina states in Nigeria. We also make use of off-cuts and dead stock.100% natural fibers sourced from India and China by our suppliers.
Dyes
DBM uses various types of dyes. We work with low-impact azo-free dyes and dyes grown naturally in west Africa such as indigo, and anatto.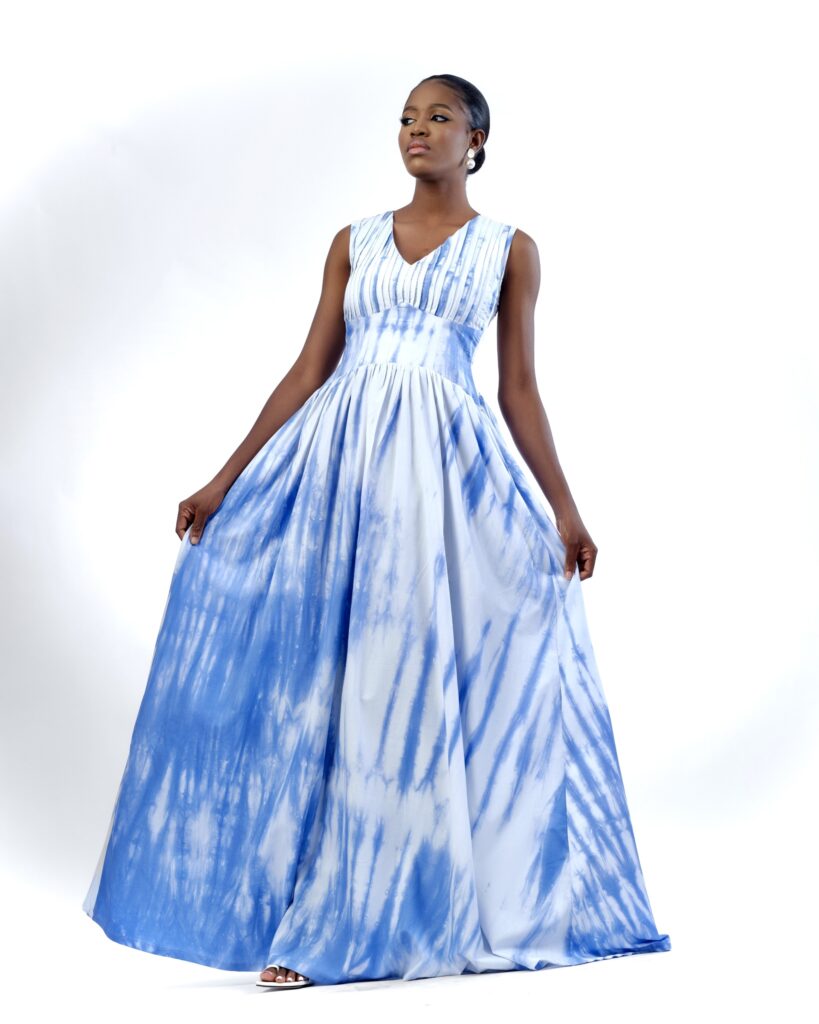 FAIR LABOUR
At our Studio in Nigeria, we offer fair wages and benefits. Including health insurance, paid maternity leave, free lunches, and financial literacy training for our employees.
We also make sure that our workers feel respected and work in a conducive environment. We give back a portion of our profits to communities. Where our artisans live and work, by offering female empowerment training.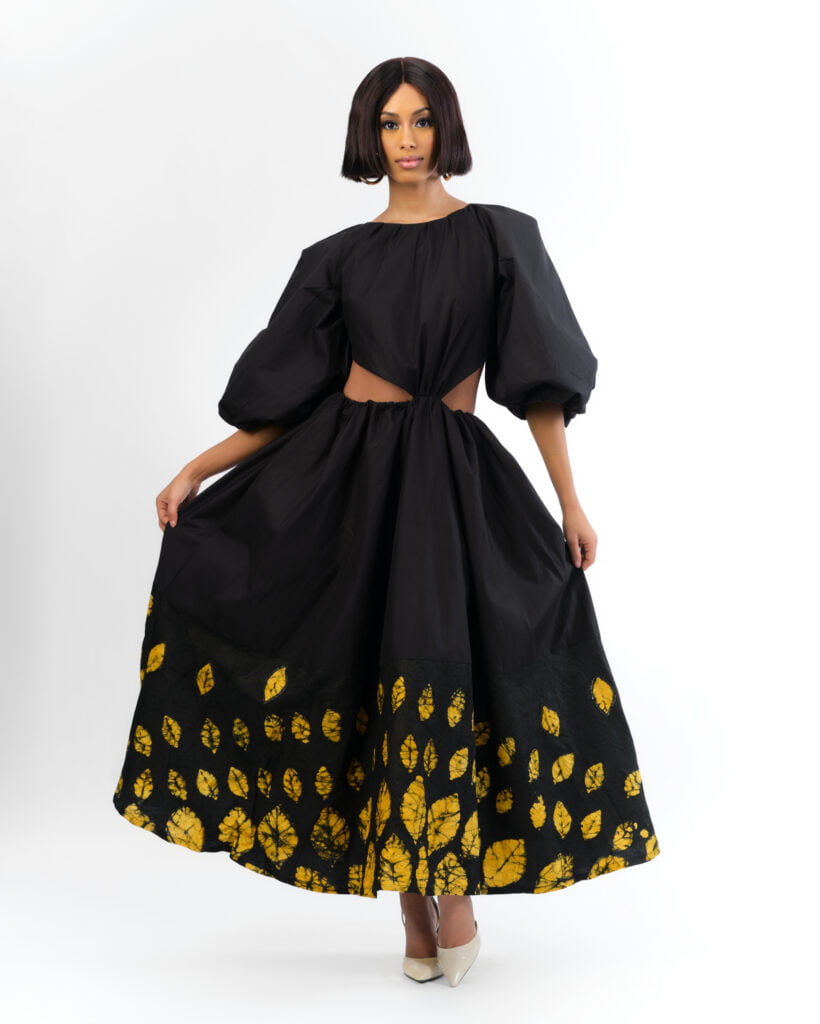 SOCIAL IMPACT

Part of our mission at Domina by Michelle is to support female empowerment in the best way we can. And we do this, by contributing 2% of our Net profit into sponsoring and partnering with nonprofit organizations. That have aligned values with ours.
By purchasing our pieces, you are helping us reach our goal of empowering 1000 young women across Nigeria . Either by unburdening them from the cost of paying their school fees, equipping them with academic resources. Also helping them harness and acquire skills that would eventually emancipate them from poverty in the future.
Contact

press@dominabymichelle.com
www.dominabymichelle.com
+2348094020536
info@dominabymichelle.com