The affinity Art gallery is pleased to announce 'FINESSE' a group exhibition featuring three emerging artists from Nigeria and South Africa. The exhibition opened on Sunday, December 18th, 2022, as the final exhibition of the year in the gallery's program.  FINESSE, an exhibition of works featuring Daniel 'Pengrapher' Oshundaro, Muofhe Manavhela, and Valerie Etitinwo, shows the works of artists coming into their own in terms of the incredible skill and impressive detail that forms their artistic practice and process. From the conceptualization of their works to the execution, up until they are hung on the walls, these artists and their attention to every brushstroke is a testament not only to the success of their work but also to their budding careers.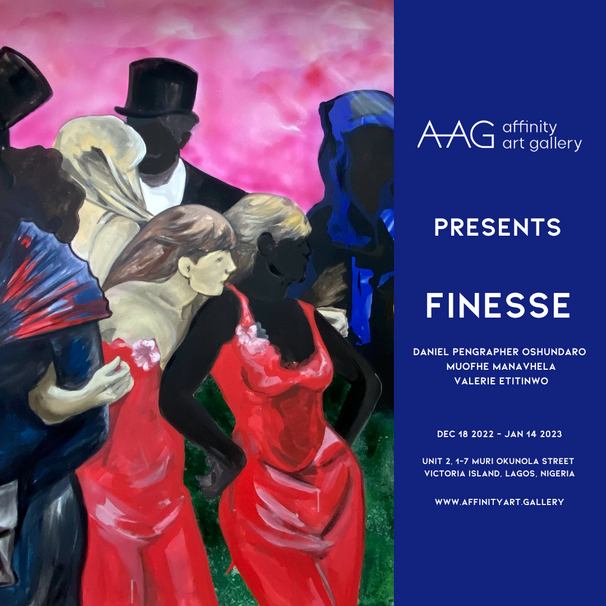 Daniel 'Pengrapher' Oshundaro
Daniel 'Pengrapher' Oshundaro (b. 1997) is a Nigerian figurative abstract artist, sculptor, and muralist whose practice reflects and engages how his individualistic beliefs, aspirations, and personality become attached to the work he creates. His work represents the self-expression of thoughts and experiences from his environment by referencing classical compositions using a combination of colors, lines, texture, and symbolism.  He received his BA in Creative Art from the University of Lagos, Nigeria, and his BA in sculpture from the Academy of Arts, Novi Sad, Serbia. In 2021, he was awarded a BEA scholarship to further his artistic journey. Pengrapher has participated in exhibitions like CLASSIQUE! Afikaris Gallery Paris, France. 2022, SLAMA LAND ART FESTIVAL NS22. Novi sad, Serbia 2022, Final exhibition, Academy of Arts. Novi sad, Serbia. 2022, Art3f BRUSSELS, Vangogh Art gallery CONTEMPORARY ART FAIR.2021, Concordant conveyances, Mitochondria Gallery,and Houston, USA. 2021.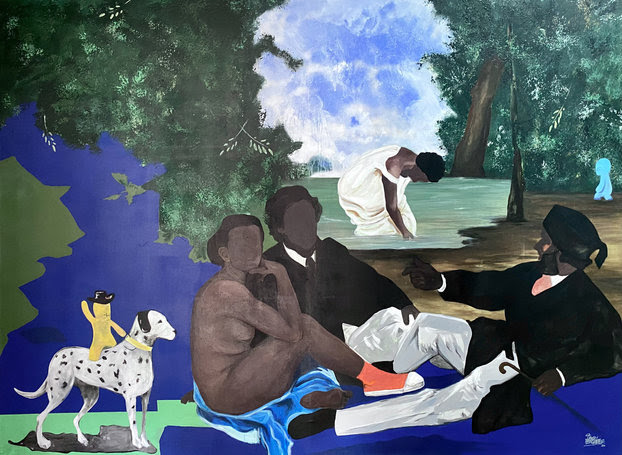 Muofhe Manavhela
Muofhe Manavhela (b. 2000), is a multi-disciplinary artist based in Johannesburg. She is studying at the University of the Witwatersrand for her Bachelor of Fine Arts. Inspired by artists like Lady Skollie and Andy Warhol. Muofhe depicts a more nuanced perspective of the daily experiences of African women. The artist uses a variety of mediums mainly paint, and printmaking. To communicate themes of sexuality, youth, freedom, pleasure, and the domesticity of women. Her work is simultaneously fun and honest. Muofhe has participated in exhibitions such as "We are culture" at The Standard Bank Gallery, Johannesburg, South Africa, 2022. On the Edge, Kalashnikov Gallery Johannesburg, South Africa 2022, Investec Cape Town Art Fair 2022, and Botho Project Space. 
Valerie Nkesi Etitinwo
Valerie Nkesi Etitinwo (b. 1998) is a Nigerian artist born in Geneva, Switzerland. Joining Atelier, Debrot (Geneva) from 2007 -2016 and receiving training and mentorship by professional artist Claire-Lise Debrot. She began to hone her craft and also find new ways of applying her skill through different mediums. Such as pottery, painting, charcoal, and collage. Finding herself drawn to the cubism movement. Valerie got the inspiration that she needed to create 'outside the box of realism. "I've always admired artists who can draw realistic-looking images because I've never been able to do so. In fact, I got frustrated at some point and decided to do the complete opposite".
It was this abandonment of rules that helped Valerie find her own style. Using mainly acrylic to depict purported human figures. And warped objects against vividly colored backgrounds. Valerie has participated in different exhibitions. Such as Breakthrough Artist, Artspace Warehouse, California, USA 2022, "Abstraction Taking Shape", and Kunstwarenhaus Zurich Switzerland 2022.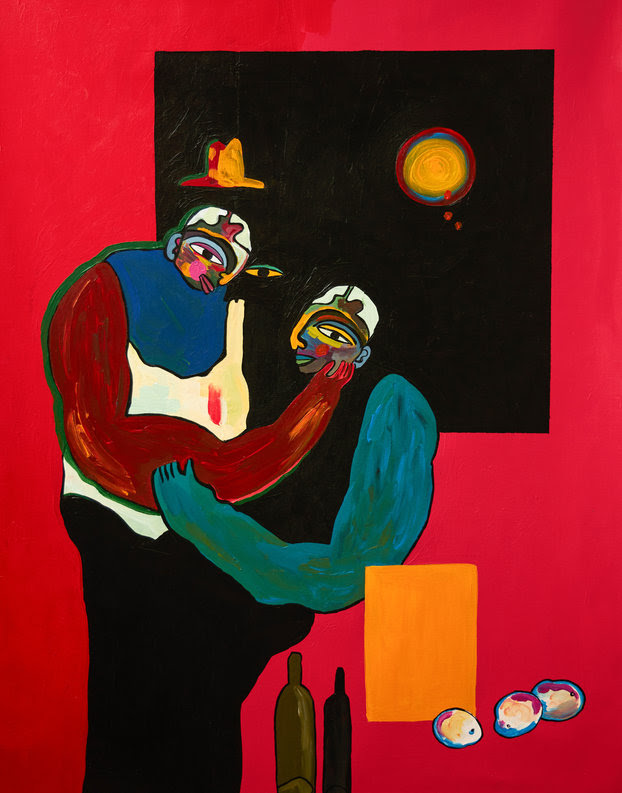 For interviews, images, and comments, please contact: Moni Aisida, manager@affinityart.galleryExhibition
Opening Hours: Tuesday – Saturday, 11 am – 6 pm Sundays are by appointment only.
Affinity Art Gallery, Unit 2, 1-7 Muri Okunola Street, Victoria Island, Lagos, Nigeria.www.affinityart.gallery