Clearly, there's a pressure on celebrities to deliver when it comes to public appearances. Hello, did you think the celebrity status comes at no cost? Now, the pressure on celebrity fashionistas to deliver is on a whole different level. I mean you have events to go out to every now and then so how do you top a look you did? It is hard, especially with so many trends and designers to pick from!
However, Fenty queen has not failed us when it comes to delivering looks and even topping the list. She crushes the red carpet as she does streetwear. On this segment, we will be keeping you up to date on all her past or present boldest looks. Rihanna has proven that she belongs in this fashionista world, and the fashion game is for her to crush!
LOOK 1: RIHANNA BLUES
On the 7th of June 2018, Rihanna stepped out for the FENTY X STANCE LAUNCH IN NEW YORK CITY in SS18 Matthew Adams Dolan silk blue dress, and a Blue Stalvey leather case bag.
LOOK 2: RENDER ME GIVENCHY
Rihanna stepped out on June 5th, 2018 for the ocean 8 premiere in this brownish-purplish metallic dress by Givenchy metallic.
LOOK 3: PLAID BUT NOT PLAIN
On October 13, 2017, Rihanna was captured out and about while leaving her apartment in New York City. She was wearing a Fenty x Puma plaid corset blouse, which she paired with navy blue cargo pants, Prada sunglasses, and white creepers. To pop it all she paired this bomb look with diamond earrings and necklaces. Tell me about shining bright like diamonds. That is this look.
LOOK 4: MONOTONE MAGIC
On February 7th, 2020, Rihanna stepped out in an orange monotone head-to-toe Fenty look; a turtleneck knit mini dress, trench-inspired parka, parachute boots and side notes shades at the Fenty pop-up shop in Bergdorfs. The singer accessorized her look with jewelry by Rafaello and Co, Chrome Hearts, Sue Gragg, Melissa Kaye, David Webb.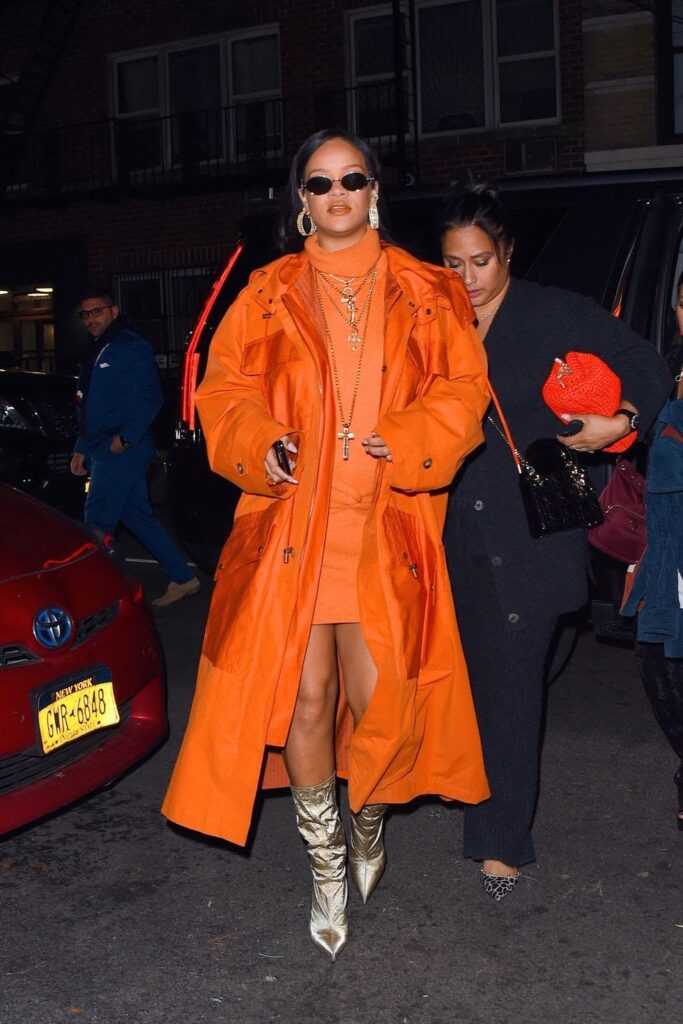 LOOK 5: ALL WHITE EVERYTHING
October 10, 2019, Rihanna was spotted at a Fabergé event in London wearing a white pullover by The Frankie Shop, leather skirt by Fenty, lace-up pumps, croc clutch, sunglasses and oversized hoop earrings.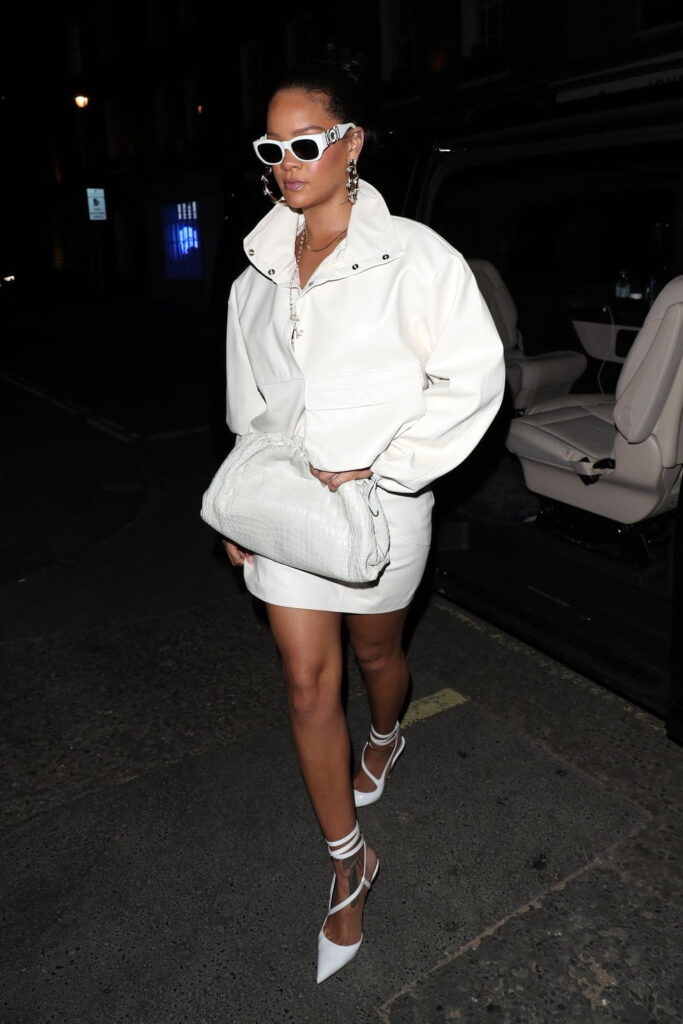 LOOK 6: DAZZLE ME
September 10, 2019, the singer dazzled in a silver asymmetrical Alexandre Vauthier dress with matching futuristic sunnies, strappy sandals and oversized hoops at the Savage X Fenty show in Brooklyn, NY.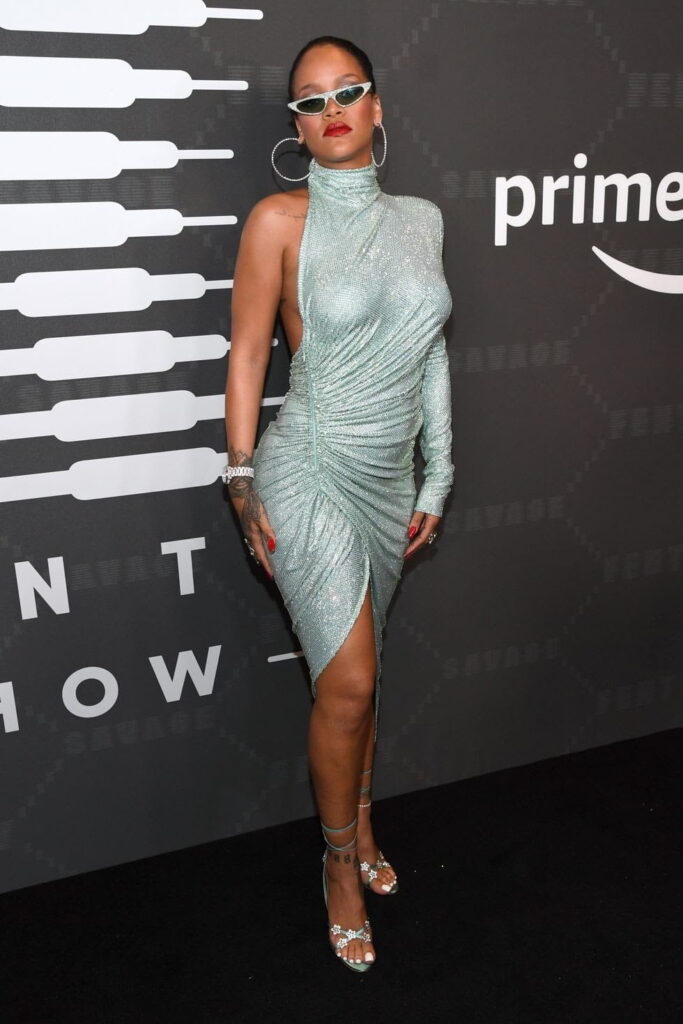 LOOK 7: BLACK BELL
December 2, 2019, Rihanna looked completely badass in a leather trench coat, black pumps and stockings with black shades and silver jewelry to finish the look.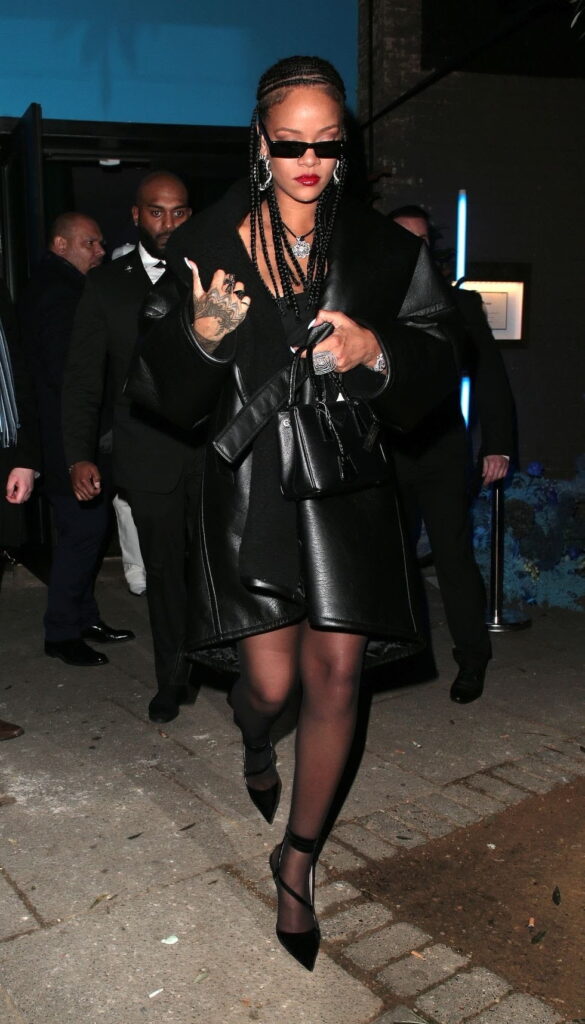 LOOK 8: PINK PARADE
On June 18th, 2019, Rihanna was seen wearing a hot pink mini dress and matching stilettos from her collection. She capped up the look in oversized sunglasses, blue drop earrings and diamond bracelets while carrying a white mini handle purse.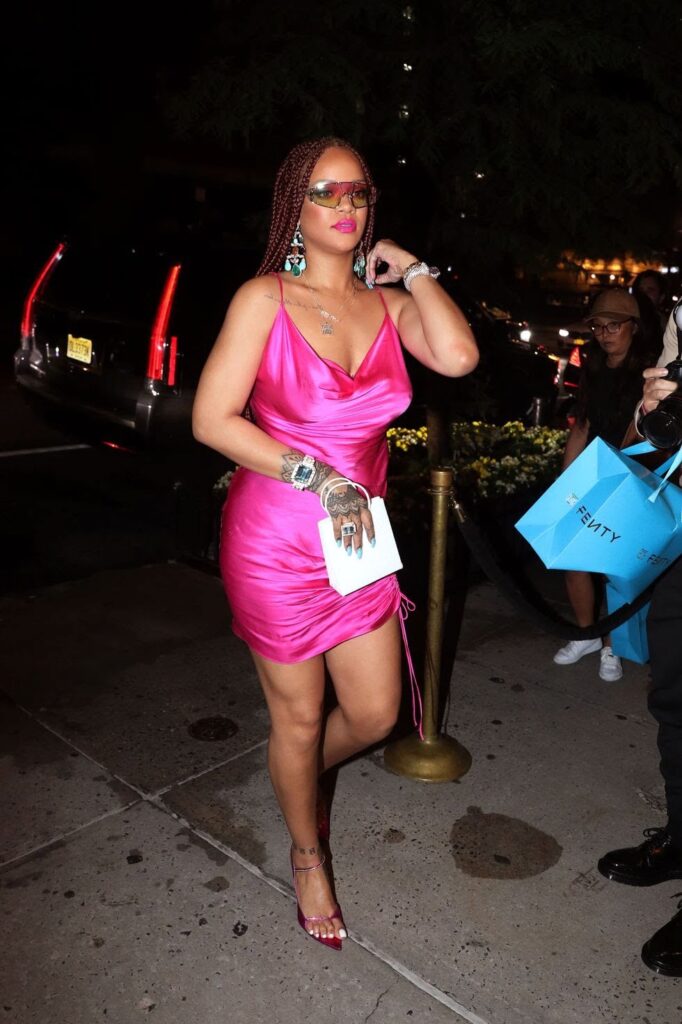 LOOK 9: LADY MAY WE..
On January 29th, 2019, the singer spinned things around in a champagne slip dress, oversized blazer and heeled sandals, carrying a white Fendi mini peekaboo bag while out in NYC.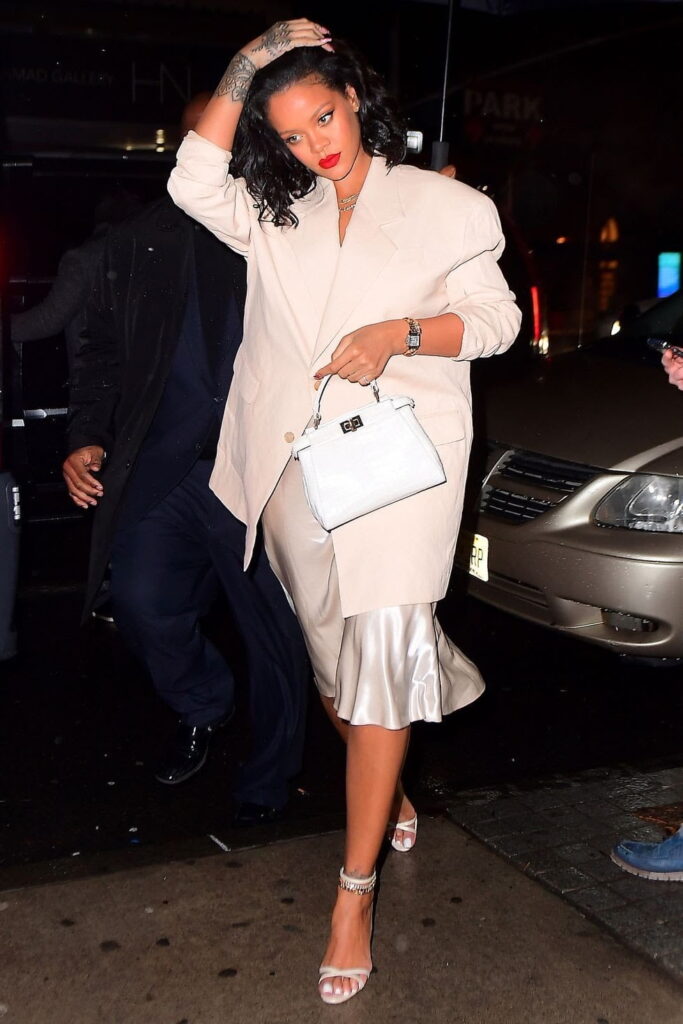 LOOK 10: MONOTONE IN YELLOW
On the 2nd of April, 2019, we were shocked but prepared when the songstress stepped out in a head-to-toe bright yellow ensemble with matching ankle strap pumps, mini tote bag by Medea and oversized sunglasses while leaving a Fenty beauty event in London.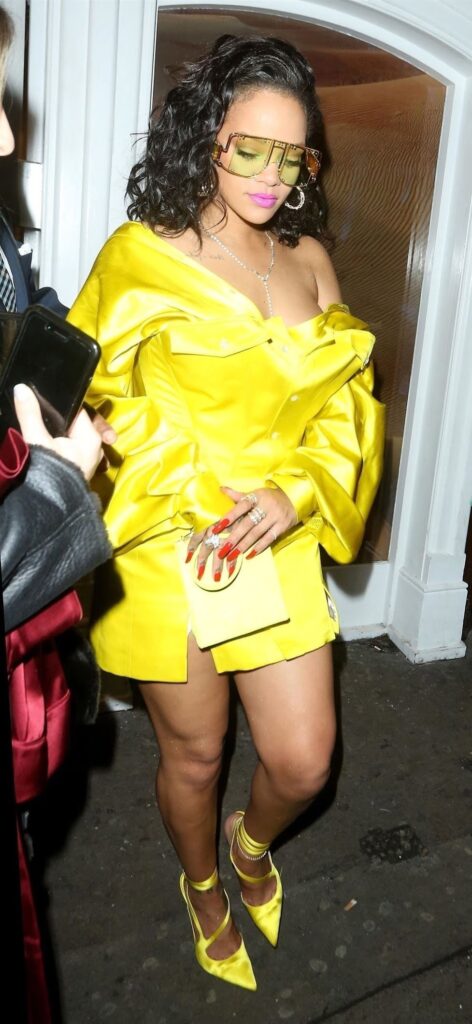 Hope you enjoyed the read, watch out for the next chapter!