Green Access Pan – African Applications Open in  Partnership with BESTSELLER Foundation Lagos, Nigeria.
For over a decade we have cultivated a strategy that focuses on Collaboration, Community and Co-creation. Maintaining these three strategic pillars for Lagos Fashion Week has required us to think through new ways to engage the African fashion ecosystem that can generate lasting impact. It has required us to assess the pressing needs of the industry at each growth stage and identify how we can support in closing gaps and connecting the dots. This has been the driving force behind our initiatives since inception and will continue to shape our engagement this season.
Our community was met with a more decentralised format for our shows in 2021, with designers organising independent #LagosFW supported shows within the Lagos Fashion Week Calendar, a triumphant development in so many ways, indicative of how far we've come as an industry.
This season, as we attempt to set the tone for the future of fashion, and champion Collaboration, Community and Co-creation across all touch points within the ecosystem, we will continue to demonstrate our commitment to Funding, Capacity Building across Retail & Manufacturing, Sustainability and Education.
In light of this, Lagos Fashion Week in collaboration with Style House Files and Fayrouz will launch the 4th edition of its talent discovery platform 'Green Access' across Africa with BESTSELLER Foundation (BSF).
Philanthropically funded by fashion group BESTSELLER, since 2015, BSF has supported projects and invested in businesses with positive social and environmental impact.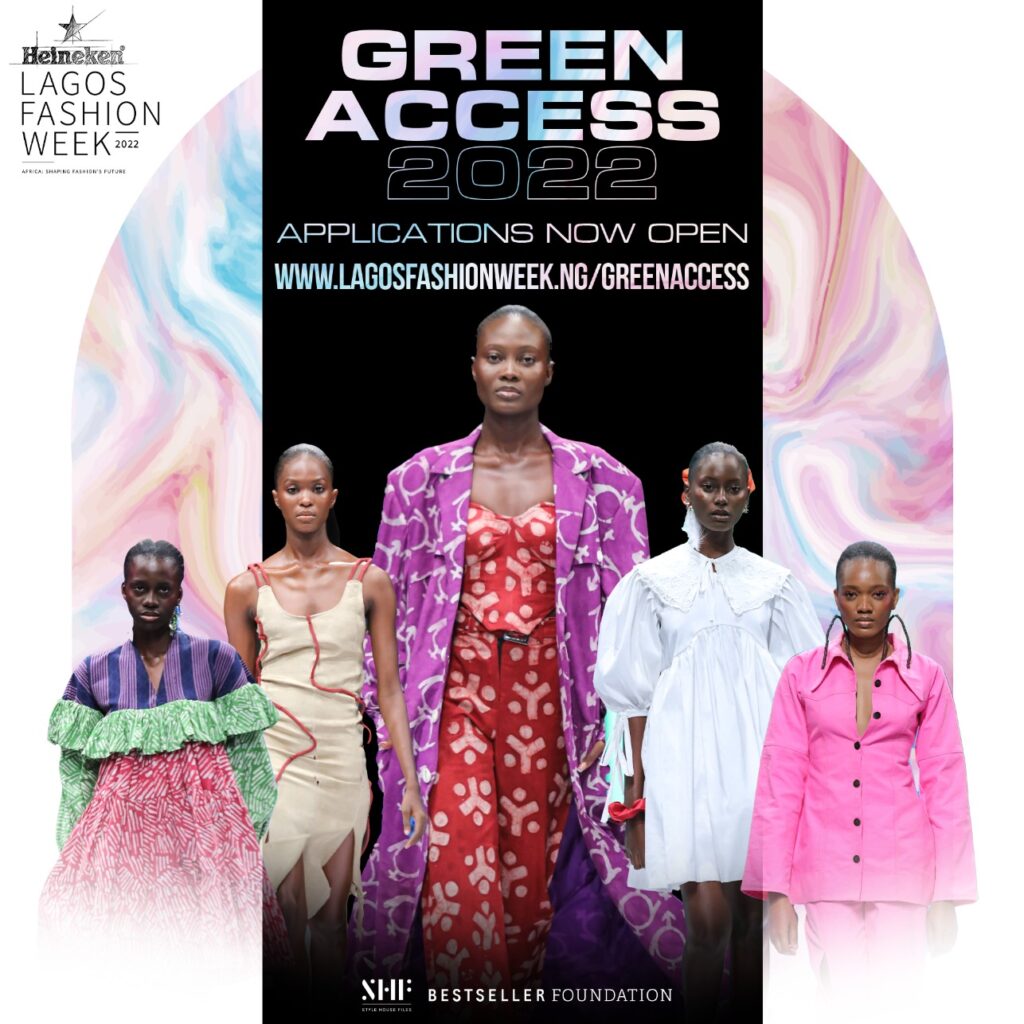 "We've leveraged the Green Access initiative as a vehicle to encourage and educate budding designers on the need to build economically, environmentally and socially sustainable fashion businesses, which we believe is the future of fashion globally. It's very important that they are engaged at a time when they are for the most part still in the start-up stages of their business, but we recognize we need to amplify this message. The partnership with BSF enables us to open the doors to emerging sustainable brands across the continent, making the Green Access programme for the first time Pan-African." – Omoyemi Akerele, Founder Lagos Fashion Week
#LagosFW Important Dates:
Green Access Applications Open: (28th July – 31st August 2022) | Apply HERE
Runway Shows: 26th – 29th October 2022 | For Press Accreditation, Apply HERE
As a leading fashion event on the global fashion calendar, Lagos Fashion Week leads the way with initiatives that support, strengthen and develop the fashion industry. Beyond the runway, the annual event provides a physical platform that's gradually repositioning fashion as a useful tool for commerce and creativity in Nigeria.
Lagos Fashion Week will return from October 26th -29th 2022.
Lagos Fashion Week 2022 is supported by sponsors, Heineken, Style House Files, BESTSELLER Foundation, TECNO, Lush Hair & Makari De Suisse.
For more information regarding Lagos Fashion Week 2022, kindly visit lagosfashionweek.ng or follow our Instagram page @lagosfashionweekofficial.