Betty Irabor, Mary Ojulari,Stephanie Busari, Dr. Tewa Onasanya, Odiri Erewa-Meggison and more.
Lagos, 1 st September – Her Summit, the much-anticipated event designed by Her Network to inspire and empower progressive women. Furthermore, It proudly unveils its exceptional roster of speakers for the upcoming summit. The second annual Her Summit, powered by the global inspirational and lifestyle platform Her Network, is scheduled for Saturday, September 16, 2023, at the prestigious Oriental Hotel in Lagos. Her Summit promises an immersive experience filled with transformative insights and empowering messages.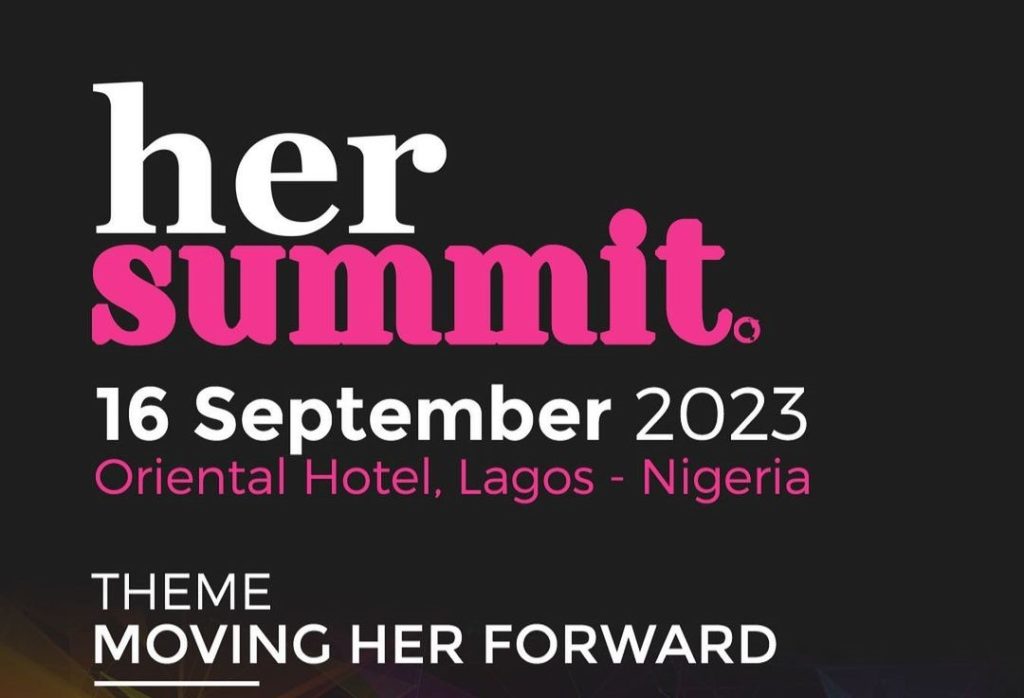 "We are ecstatic to reveal our illustrious lineup of speakers for Her Summit 2023," said Nkem
Onwudiwe, the founder of Her Network and convener of Her Summit.
Also, "Each speaker possesses an unparalleled wealth of knowledge and experiences that will undeniably ignite a fire within every attendee, empowering women to chase their dreams and aspirations with resolute determination to move forward fearlessly." 
Moreso, The keynote speech will be delivered by Betty Irabor, the founder of Africa's leading lifestyle magazine, "Genevieve". An author and an executive leader with extensive experience and accomplishments in publishing, entrepreneurship, speaking, and advocating for mental health and wellness. 

Speakers expected to be at Her Summit include Dr Tinuade Sanda, Managing Director/CEO
EKO Electricity Distribution Company (EKEDC); Onyekachi Eke, Director for Global Markets,
West Africa at IE University, Spain;  Stephanie Busari, CNN Senior Editor West Africa; Mary
Ojulari, MD Westar Associates Limited (Mercedes-Benz Nigeria); Debiie Larry-Izamoje, Chief
Operating Officer, Brila Media; Odiri Erewa-Meggison, External Affairs Director British
American Tobacco West & Central Africa; Dr Tewa Onasanya, Founder Exquisite Magazine;
Mayokun Owolabi, Regional Operations & Partnerships Manager West Africa, Flutterwave;
Victoria Ajayi, Deputy Chief Financial Officer at TVC Communications; Sandra Tuboereni,
Creative Director of TUBO alongside other outstanding women of impact. 

Her Network also unveiled the panel session topics, which include Navigating Her Career, Her Digital Transformation Era, Reclaiming Her Power, Monetizing & Investing in Her Future.
Also adding to the topics include Practical AI Tools For Enhanced Productivity, On Her Game, and Leveraging Leadership. This will also provide diverse insights and actionable strategies for women to thrive in their respective fields. 
Also,Supported by IE University, Flutterwave, Heirs General Insurance, Nestle and Elect HE. Her Summit offers women a remarkable chance to come together. To also learn, and grow while being
inspired by captivating speakers, paving the way for a transformative experience that propels attendees forward in their personal and professional journeys.

Furthermore, As the countdown to Her Summit 2023 begins. Her Network also welcomes women from all walks of life to be part of this empowering experience. 
For more information, visit www.hernetwork.co/hersummit