'The Woman King' has proven to be a good film following the Toronto International Film Festival. It shines through as a well-directed epic action film. If you loved 'Avatar', you know what to expect from Gina Prince-Bythewood. At the center of this film lies the emphasis on sisterhood and the ability of women to manage their own destinies. Furthermore, it passes a clear message of the immense power that lies within African soil.
Back Story of The Woman King
The film is based on the historical "Dahomey Amazons", a mighty all-female army of the Dahomey kingdom of West Africa in the 19th century. They called themselves the 'Agojie'. These military women were recruited to fight for their kingdom after they lost most of their men in various wars and the slave trade that ensued at that time. They proved to be great at the art of combat and war and did a great job, defending themselves and their kingdom, especially when European armies invaded the kingdom.
Storyline
Viola Davis stars as General Nanisca who leads the entire female army. The film begins with the menacing Nanisca appearing from the grass. Her warriors all carefully well-positioned behind her, also appear immediately after. They get into an enemy camp and brutally deal with all the men in the camp, leaving women unharmed. They suffer a great loss in the fight also. Ultimately, the loss led to the recruitment of more female warriors for the Agojie.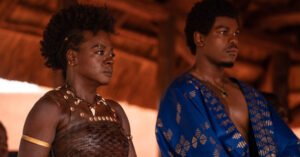 The rest of the story talks about all the activities involved in recruiting and leading the entire female warrior team to achieve all they set out to do for their kingdom.
The Woman King 2022 – Trailer
The film is set to be released on 16th September 2022 in US theatres. After its release, it should be available for streaming on different platforms on the internet. There is however an official trailer that can be found here:
Verdict
Within "The woman King", we find the true nature of a woman – her strength, her warmth, her compassion, her love. While it is often said that it is difficult to understand the true nature of a woman, this film really does its best to open our eyes. Writing such a story from the eye of history, a story that can hardly be told without incurring so much wrath from different groups or people is a lot of work. Better still, the story was presented with so much care and attention to detail. 
Out of 5 stars, we would give the film 4.8 stars. The other 0.2 stars
Keep reading for more reviews