"Yinka, Where is Your Huzband?" is the debut novel of Lizzie Damilola Blackburn. It is a story about Yinka. The book has captured the hearts of many who have a lot of good things to say about it. In this article, we will review the novel.
Review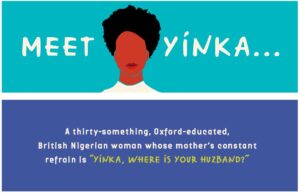 "Meet Yinka: a thirty-something, Oxford-educated, British Nigerian woman with a well-paid job, good friends, and a mother whose constant refrain is 'Yinka, where is your huzband?'" Goodreads. The story of Yinka sounds like a story for the young. However, it covers many areas, ranging from tradition, philosophy, and religion. 
Yinka is like a lot of young women today faced with career, family, and finding love. As a successful career lady, her family, especially her mum and aunties do not seem to value how far she has come. They had made Yinka believe she was not enough and needed a "huzband". The pressure is all too real for a lot of young women today.
Yinka had her friends too who were all flawed. Yinka was a bit of a mess herself. But all of us are a little bit of a mess – from time to time. Nevertheless, this novel reveals how all the characters grow from experience. In the story, we find Yinka's journey to self-discovery in the most hilarious and warm way. Yinka also really had to "find a huzband" when push came to shove. Who wouldn't, when her cousin is getting married and she so seriously needed to answer her mum's and everyone's question: "Where is your Huzband?" The rollercoaster of events that came with it will push you to the edge of your seat with raw emotions – laughter, anger, love, frustration.
In this novel, Lizzy highlighted some cultural issues prevalent in Africa and how they are currently being promoted and addressed. The hilarious and happy ending has us longing for more of Lizzy's novels in the future.
Verdict
In all, we will give Yinka and her story some 4.5 out of 5 stars. The other 0.5 left for some people who expected less or more from the novel :).