In West Africa, One of the industries that have grown in the past decade is the modeling industry. West Africans have had its biggest exports walking the world's biggest runways and being the face of high-end brands. We speak to Teminikan, a model who has taken bold steps in pursuing her modeling career, demanding that the profession be treated more seriously and, in turn, earn a living for herself. This article is Teminikan's story and advice for other models.
Red Edit: Hi, Temi. Can you tell us a bit about yourself? Are you a full-time model, or do you do other things?
Teminikan: I used to do other things. I started full-time working immediately after I finished school. I had a 9 am – 5 pm at some point after NYSC. I had to quit my 9-5 because I wanted to have more time to pursue everything I wanted in my career.
Red Edit: So has your modeling career been fulfilling to you?
Teminikan: Yeah. Most people don't actually see modeling as a career, just like engineering, being a doctor, or being a lawyer. It's the same as earning income. There's also a need in society for modeling. Clients need actual humans to model their outfits and products.
Red Edit: What has been your biggest job so far? Just pick one.
Teminikan: I worked alongside other big celebrities in the industry, and it has always been a dream to do something for Samsung or Apple, you know? I've done something for Oppo just like a couple of months before. But when I got Samsung, I was like, okay, this was a phone that I used when I was growing up. So I'm like, It's a dream come true.
So far, I might say on a scale of really big that has to be like, yeah, very major, major. I don't know how to explain, but I think it was a dream come true because the Samsung brand is one I used growing up. Yes, I'm just putting it that way; it's like a major dream come true. Also, the money was good. (laughs)
Red Edit: So, what's the greatest strength in your field? What is that catchy thing about you that makes brands come to you?
Teminikan: I'll say my face. It's my face for me. I've not seen anyone that looks like me.
Red Edit: Any other thing?
Teminikan: I'm a hundred when it comes to other things, but it is like two hundred when it comes to my face.
My face is my first is my selling point. And then the attitude with the face anyways, right? You have to have a certain kind of usage of the face before it can become "the face." So yes, it's my face for me. And then let me say the carriage of the face and the attitude.
Red Edit: You worked with several beauty brands. What do you think about the beauty industry in Nigeria? Can we match international space anytime soon?
Teminikan: I think Nigerian beauty brands are a bit underrated. Some great brands are doing outstanding products, but the products are not well seen out there. I was the face of Zaron for like two years. I was with a modeling agency for few models, and then I just finished my contract with them. I was thinking of going freelance. So while doing freelance, I happened to hear about the face of Zaron competition going on there. And I was like, you know what? Let's go for this. I went, and one thousand contestants later, I emerged the winner. The brand is an amazing brand of cosmetics. It's a very, very good brand. My favorite product from them is their mascara. I worked for them for two years, and trust me; it was a fantastic time with them because they were very professional.
There are certain things that are unique in each brand, but I think Nigerian beauty brands can do better to put themselves out there.
Red Edit: How is the experience of being a freelance compared with when you were with a modeling agency?
Teminikan: So I started my modeling journey itself in 2013. it wasn't very serious until I got my first job. I got signed to few models in 2015, two years after I started modeling as a career.
One thing I figured out during my process in my journey is that when you're in an agency, you get better negotiation. Clients won't come to you and approach you with little prices or low bargaining. When they go to your agents, they know that this is the fixed price. So it's good for any start-up model to have an agency because you need that foundation at the very beginning. After I left, few models during my freelancing time, all the jobs I was getting, I was being priced down, and I was getting low money compared to the work I was putting out. After few models, I did freelance and then went to another modeling agency, Beth. I started freelancing again, and it's been a totally different experience because my face is already out there. People know me, so it's easy for me to get jobs, and I have a cliente already. So for people that are not coming back as clients, they are referring people to come to me. So I would just say that for beginners, at least if you are not yet three or four years into your career, you strictly need an agency.
Red Edit: You've done lots of space and beauty campaigns; how about runways?
Teminikan: When you are signed to an agency, you don't have a choice. Once you get called for casting, you have to represent your agency. And if you get picked, you get lucky. I've done every kind of runway with an appearance here in Lagos. We have the Lagos Fashion and Design Week. We have the GTB Fashion Week, and then we have DFA. I did runway for three years back to back. I noticed that I'm more of a what gives me profit kind of person. So for the runway, you stress for seven weeks, and you get paid half of what you get paid in a day for a commercial job. So I'm just like, You know what? This thing is not meant for me. There's a lot of thrill; it's fun meeting other models. But asides from that, you get exhausted, and it's not as productive.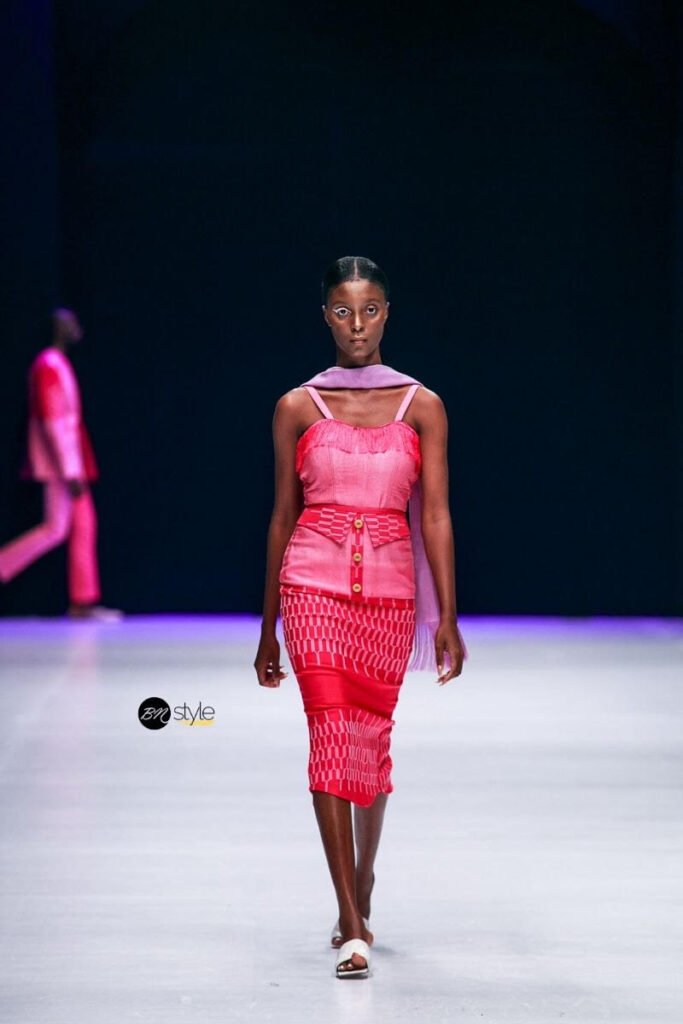 Red Edit: Do you remember any previous work experience you had that was not pleasant?
Teminikan: Yes. There was this job I had. I went for the shoot. We had done the shoots right, and then she had paid initially. And then she said that the initial pictures were not that they didn't come out, how she wanted it. She said that the photographer did it wrong or something. And she asked me to come back for it, and the plan was okay. If something didn't come out well, are you not supposed to shoot the same outfit? She brought out a different set of collections. I refused to do it, and then it got embarrassing. We started exchanging words at some point, but I went ahead and did it because she said she was going to pay. However, she never paid to date, and in addition, she took my dress. She borrowed a dress from me and never returned it. I never want to see that client again. It's one of the ugliest experiences I've ever had. It's traumatizing. No, this will never happen to me again. But it's been a very long time, about 2017.
I think my worst experience, apart from when my pants tore in a shoot. My actual pants, which I wore to the shoot. I was about to bend and oops. (laughs)
Also, disastrous runway moments, when you shake and then fall on stage. Sometimes, they want to test out versatility; they don't give you comfortable shoes. Sometimes, it's like some form of training.
Red Edit: Do you experience stage fright?
Teminikan: My first runway show, I forgot that I was supposed to turn. It took me about two seconds to quickly come back and say, okay, you have to turn. It was just awful. So you will have the initial stage fright. But once you're on stage, you will enjoy the thrill.
Red Edit: What's your take on collaborations and modeling, especially with the rise of social apps like tik-tok Instagram, amongst others?
Teminikan: So with collaboration, there should be compensation. I've noticed that whenever you are doing something without pay, you don't necessarily put your heart into it. It's stressful to tell the team that, oh, this is just a collaboration. So what I think is at least gets compensation, even if it is just a tiny amount of compensation for basic logistics.
Red Edit: When you started, didn't you do anything for collaboration? Did you just put yourself out there?
Teminikan: Modeling is different from influencing. Influencing requires things, e.g., lights, someone to assist… Before going to a brand for collaboration, build yourself to establish value. Promote yourself. But you should still be compensated for logistics.
Red Edit: Do you think every model is automatically an influencer?
Teminikan: The definition of modeling is equal to influencing. If you look at it on the bright side, what your model is doing is promoting your product, which is selling the product. Yes. So now, if that person tells their audience that, oh, this thing I'm putting on is from so, and so… they are influencing you.
Red Edit: What are your aspirations in the next couple of years? Career-wise? Family? Marriage?
Teminikan: I believe marriage is a little bit overrated, right? Yeah, I think it's a little bit overrated. I mean, you can have a future without necessarily thinking about marriage. I'm the kind of person that believes that you should not marry expecting so much from your man. So you have to have made yourself up a little bit, at least 50 percent or 60 percent, before saying, okay, I want to set myself up in a man's house. Right? So I see myself married in five years because I've set myself up to 40 percent. So I know that I will be in marriage in the next five years. If I find somebody ready to settle and happy with it, I will be married.
I see myself also having my modeling agency. I want to have a nail salon, hair salon, and spa because it's always been my dream. I want to have a place that I can call my own.
Red Edit: So, what are your weaknesses? Do you have any phobia or pet peeves?
Teminikan: Okay, so I fear water, height, and I have allergies. I can't eat eggs. I went Kayaking recently, and I almost fainted. But I'm the kind of person that pushes myself. I still want to try and do those things, even though I have a weakness for them. I don't like anything having power over me. Yeah, so let me try.
Red Edit: To round up, how many hours do you use on Instagram?
Teminikan: I don't time myself. Once I post, I go offline. It saves me screen time. But at night, I'm on Instagram. Like the majority of the nights, I'm a night person. Okay, yeah. Let's just say about five-four to five hours a night.
Related Posts: How To Dress To Impress In 3 Simple Steps
Related Post: How to Get into Being a Model
Related Posts: Herconomy Awards and Gala Night 2022